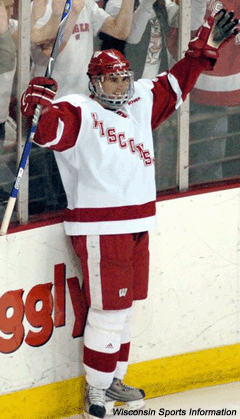 February 9, 2009
By Inside College Hockey
Wisconsin
Jr. | D | Faribault, Minn.
His Statistics: 2-2—4, PPG, SHG in the Badgers' weekend sweep of Minnesota.
His Impact: McBain, the Badgers' leading scorer with 34 points in 30 games, led WIsconsin to an impressive sweep at Minnesota. In the series opener, he sparked his team to a 3-2 win, scoring a shorthanded goal late in a first period that had been dominated by the Gophers. In Saturday's finale, he set up both of Wisconsin's first-period goals, then gave the Badgers the lead for good with a power-play marker midway through the first period.
With the wins, Wisconsin, which opened the season with a seven-game winless streak, moved into a tie for first-place in the WCHA standings with Denver. The Badgers' next games are Feb. 20-21 against the Pioneers in Madison.
His Runners-Up: Kevin Lohry, Princeton; Egor Mironov, Niagara; Matt Pierce, Mercyhurst; Viktor Stalberg, Vermont; Brian Stewart, Northern Michigan