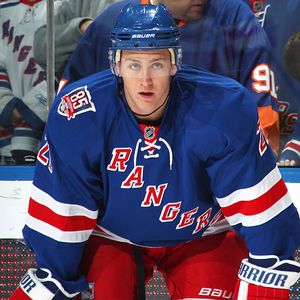 Rookie centerman Derek Stepan has come a long ways in the past few seasons. A mere three seasons ago he was playing midget hockey for Shattuck St. Mary's. Tonight, he's going head to head with his former schools most famous alumni, Sidney Crosby.
According to an
article
written by NY Post Rangers beat writer Larry Brooks, young Stepan has drawn the task of matching up lines with Sid the kid as the Penguins roll in to town on a 6 game winning streak.
Stepan, who led the Badgers in scoring last season with 54 points in 41 games is excited at the prospects of trying to shut down Crosby who has a ridiculous 25 points in his past 12 games.
"If I play well defensively, I play well offensively. And if I can disrupt Crosby, it will make my night."

Stepan has had an up and down season in his rookie affair. He started up his NHL career with a hat trick on opening night but only recorded a mere two assists through his next 15 games. Nine games ago Stepan's ice time started to increase and as one would expect, his production increased as well. He's found the net 3 times and has 9 points in his past 9 games.
Stepan's 14 points this season are good for fourth on the team but as you can expect from someone who has spent time learning under Mike Eaves, defense comes first.
"For me, it's always been that if I play well defensively, then offense is never too big of an issue," Stepan said. "It's kind of a wild card for me, but it works."
Photo by Bruce Bennett/Getty Images
chuckschwartz@live.com
Follow me on Twitter